The Complete Buyer's guide to Triumph Tiger 900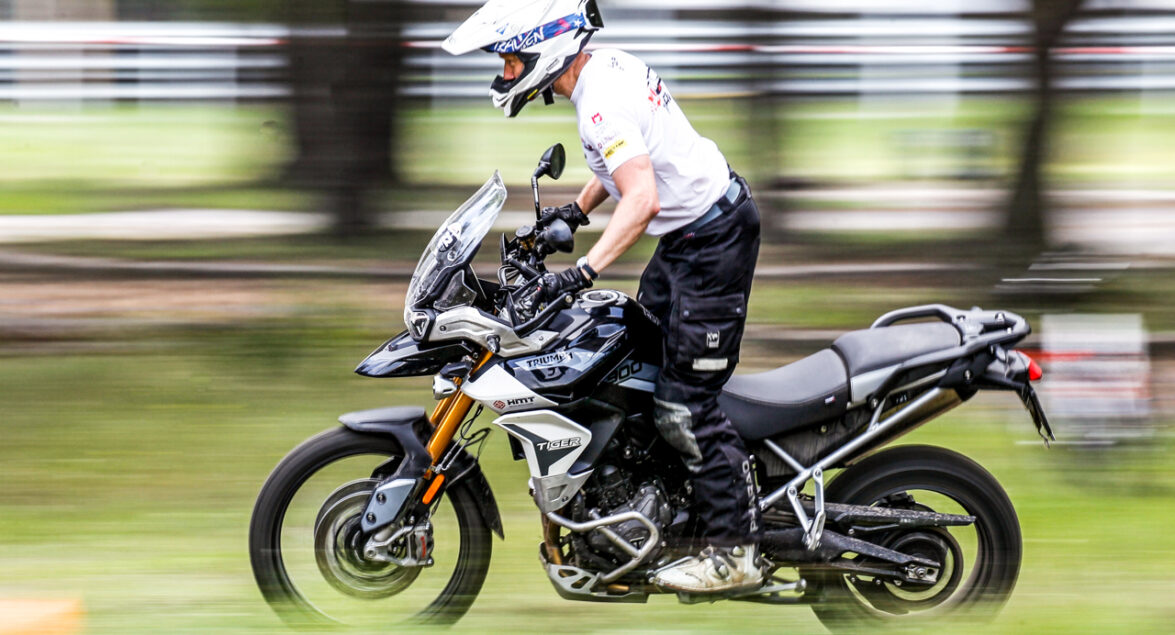 Triumph Tiger 900 is one of the top mid-sized adventure bikes on the market. Premiered in 2020, Tiger 900 is available in two different flavors — to accompany your specific needs. How does it compare to other bikes in this segment, and what are the biggest pros and cons of owning A Tiger 900? In Proenduro we use Tigers 900 from the first day these bikes hit the market.
The Tiger 900 is available in two different specifications: the Triumph Tiger 900 GT and the Triumph Tiger 900 Rally. Both models are designed for an adventure and have a strong emphasis on comfort and performance. They share frames, engine and general design — that said, differences between given models are huge. The base version Triumph Tiger 900 GT is perfect for riders who want to enjoy long-distance touring with their friends, but don't need all the off-road bells and whistles. The Triumph Tiger 900 GT Pro is a spec-up version for those who want to enjoy on-road touring and country roads, while the Triumph Tiger Rally and Rally Pro are for those who want to go off-road on rough terrain at high speeds.
For past years, we used Tigers 900 Rally Pro's as our main tool for work during adventure riding school days and off-road trips.
The Common: Tiger 900 Triple Engine
The new engine is a 888 cc capacity liquid-cooled three cylinder unit with twin overhead camshafts. It produces 95 bhp and 87 Nm of torque, which is an improvement on the previous generation Triumph Tiger 800 (79 Nm of torque). Maximum power is almost the same. But the engine was built from the ground up, and thanks to that it is lighter, more responsive and feels just more fun to ride. General weight savings make Tiger 900 14 kg lighter than its predecessor with a wet weight of 201 kg. Other modifications include a lighter clutch, a new exhaust system, a redesigned air-box with improved intake characteristics and a re-engineered fuel tank.
Tiger 900 engine is shared by GT and Rally models, as is its frame. The Tiger 900's chassis has been re-designed compared to the Tiger 800 model, with a longer wheelbase, low weight and high rigidity. This has resulted in a more stable platform that delivers exceptional handling. The new suspension layout is also lighter and high spec (Showa in Rally models, Marzocchi in GT), making for much improved ride comfort and capabilities.
All 900 use a ride-by-wire throttle body, have switchable riding modes, traction control and ABS as standard.
The Difference: Tiger 900 GT vs Tiger 900 Rally
As we pointed out, both are equipped with a 888cc liquid-cooled, in-line three-cylinder engine with a six-speed transmission and the same frames. But the Tiger 900 rally has a more off-road oriented design, and it can better handle more extreme terrain. At the first glance — GT has a smaller, road-focused 19" front wheel. Rally uses 21" front, 18" rear heavy duty spoked wheels better suited for off-road riding. GT also has 180 mm suspension travel to 240 mm travel in Rally. Both suspension setups have manual rebound and compression damping adjustment; electronic adjustment (rear) can be found in Pro versions of both bikes.
Cheaper, still great — Triumph Tiger 850
Triumph also offers a cheaper version of a Tiger 900 called Tiger 850. Frame, engine and main design are the same. Tiger 850 has got less power, with 85 bhp, cheaper suspensions, only two riding modes and lacks TFT screen. That said, Tiger 850 offers very competitive pricing. At the end, it is the same popular and well-received Tiger 900 platform.
Triumph Tiger 900 alternative
Mid-size adventure bikes market is swelling more and more, with new additions every year (with the likes of Aprilia Tuareg 660 and hot XL750 Transalp). These are the best alternatives for Tiger 900:
KTM 890 Adventure / Adventure R
The 890 Adventure is powered by a liquid-cooled, two cylinder LC4c four-stroke engine with a displacement of 893 cc. The engine produces about 100 horsepower and 72 ft·lbf (98 N·m) of torque. The frame is made from hydroformed, triple-butted, high tensile steel tubing and features a fully adjustable front suspension and preload-adjustable rear suspension. Both versions — base model Adventure and offroad-orienter Adventure R — have spoked, tubules wheels size 21/18. KTM is packed with tech and for 2023 got a huge overhaul.
Yamaha Tenere 700
Yamaha was one of the first companies to utilize a common engine platform (delivered from popular MT series), in mid-size adventure machine. Tenere 700, due to its great initial pricing, was an instant bestseller. It has been designed to be able to take on any terrain that it may be faced with while still being able to maintain its high levels of comfort. Tenere 700 is still simple and easy to ride. Comparing it to Tiger 900, Tenere (and Tuareg below) will lack power – especially on the road.
Aprilia Tuareg 660
Aprilia entered the modern adventure game pretty late, with Tuareg 660 debuting in 2021. Tuareg 660 is powered by a 659cc liquid cooled, four-stroke, parallel twin engine. The engine produces 67 horsepower at 8500 rpm and 50 Nm of torque at 6000 rpm. The bike can reach speeds of up to 160 km/h, and it can go from 0 to 100 km/h in just 3 seconds. It's also pretty capable offroader, with great suspension and low curb weight.
Tuareg comes with an advanced traction control system that helps you maintain stability on any terrain. It also comes with ABS brakes, which provide you with maximum stopping power in all conditions. If you are looking for a lightweight, Italian adventure bike, this motorcycle is the perfect choice.
Pros and Cons of Buying a Triumph Tiger 900?
There are very few cons, really. Triumph Tiger 900 is a modern, well-built and easy to handle adventure bike. With responsive, powerful triple engine, riding modes, modern TC and ABS, Tiger 900 is a great companion for a vast variety of riders – from everyday commuters to round the world explorers. As a leading enduro riding school in Poland, we had zero issues with Tigers 900 in the past two years.If you'd like to learn more about our events and schooldays, check out our 2023 Proenduro Calendar.